Top Ten Books With X Setting: Set Near A Body of Water.
All of these books where either set near a beach, or a lake.
I would have went with set during the Summer, but some of 
these books are actually set during the Winter. Enjoy! 😀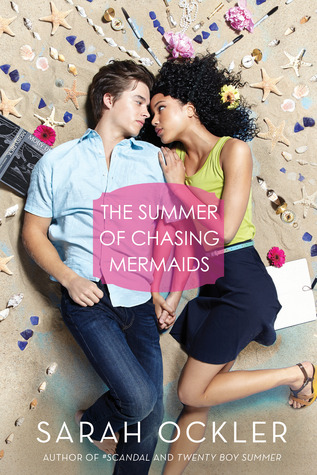 1.) The Summer of Chasing Mermaids by Sarah Ockler.
Main Character is staying with a family friend in 
Atargatis Cove. ⭐ ⭐ ⭐ ⭐ ⭐
2.) Twenty Boy Summer by Sarah Ockler.
Characters take a trip to Zanzibar Bay. ⭐ ⭐ ⭐ ⭐
3.) Something Borrowed by Emily Giffin.
Characters take many trips to The Hamptons. ⭐ ⭐ ⭐ ⭐ ⭐
4.) Along For The Ride by Sarah Dessen.
Main Character spends the Summer with her father
in Colby, a beach town. ⭐ ⭐ ⭐ ⭐ ⭐
5.) Second Chance Summer by Morgan Matson.
Main Character spends her last summer with her dad
at their old lake house. ⭐ ⭐ ⭐ ⭐ ⭐


6.) The Thousand Dollar Tan Line by
Rob Thomas & Jennifer Graham.
The story takes place around the boardwalks of Neptune
California.   ⭐ ⭐ ⭐ ⭐ ⭐
7.) Big Little Lies by Liane Moriarty.
Characters live in a town close to a beach. That's one of the 
main reasons why Jane moves there in the first place. ⭐ ⭐ ⭐ ⭐
8.) The Good Girl by Mary Kubica.
Missing Girl is held in a cabin by the lake during the winter. ⭐ ⭐ ⭐ ⭐
9.) The Goats by Brock Cole.
Main Characters are attending a Summer Camp by a lake. ⭐ ⭐ ⭐ ⭐ ⭐
10.) Let The Right One In by John Ajvide Lindqvist.
Main Character lives in a town in Sweden near a frozen lake.
The kids ice skate on it, and it is also where
a dead body is found. ⭐ ⭐ ⭐ ⭐ ⭐

*Top Ten Tuesday is a weekly meme
hosted by The Broke and the Bookish.