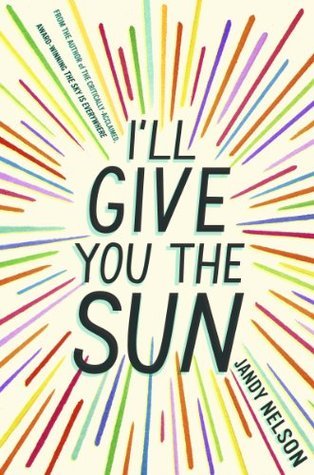 Book: I'll Give You The Sun.

Written By: Jandy Nelson.
Pages: 371.
Synopsis: Jude and her twin brother, Noah, are incredibly close. At thirteen, isolated Noah draws constantly and is falling in love with the charismatic boy next door, while daredevil Jude cliff-dives and wears red-red lipstick and does the talking for both of them. But three years later, Jude and Noah are barely speaking. Something has happened to wreck the twins in different and dramatic ways . . . until Jude meets a cocky, broken, beautiful boy, as well as someone else—an even more unpredictable new force in her life. The early years are Noah's story to tell. The later years are Jude's. What the twins don't realize is that they each have only half the story, and if they could just find their way back to one another, they'd have a chance to remake their world.
My Thoughts: This is the perfect example of what a book with multiple points of view, should look like. I am in love! I usually don't like books written like this, but I'll Give You The Sun stole my heart. I will admit, I did have a hard time getting into it in the beginning, but when I did, I was blown away! I love how everything came together in the end. I'm in awe, I can barely put together what I want to say. This book is soo GREAT! Once I started reading, it was hard to put down, but when I had to put it down, I couldn't stop thinking about it. I loved Noah's voice over Jude's, but together they are so amazing.
It's so sad how one lie can change someone's life forever. People think that telling lies never really hurt anyone, but I'll Give You The Sun is the perfect example of what really happens when you decided to start telling lies. It was so shocking how easily Jude and Noah could betray each other. It's no lie, (depending on how strong you are mentally) jealousy can make you do some evil things, even to the people you love most.
Unlike a lot of YA books, you actually get to see the characters grow. You get to learn why they are the way they are. There's no guessing. The ending did seem a little rushed but it wasn't too bad. It was a little weird that no one was really mad in the end, but then again they did so much hurt to each other that it canceled everything out.
I was scared to read this at first because I loved Jandy Nelson's The Sky is Everywhere so much. I was not disappointed. Everyone should read both of Jandy Nelson's books! I'm excited because I just heard that her new book will probably be out in 2017! I'm bummed because that is a long time from now…I CAN'T WAIT!
I wish I could give this book a GAZILLION STARS!!!!!