This month I read a total of 7 books!


It's not as great as I have done before, but it sure is better than last month, and it's sure better than nothing!
And of course, none of them were my picks from my TBR Jar. Oops!


I tried to read Me and Earl and The Dying Girl, but I just wasn't feeling it, so I picked up something else. I think I'm still kind of in a slump because I found it hard to make myself read, but when I did, I couldn't put the books down. After the 7th book I tried to read again but I'm just didn't feel like reading anymore. 😦
Anyways here are the books that I read in October: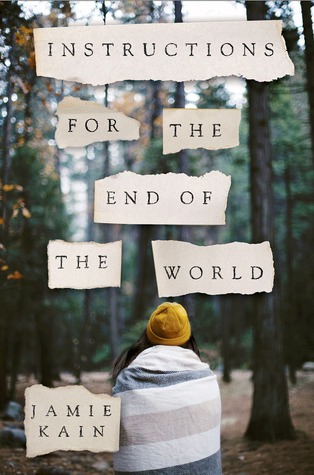 Instructions For The End Of The World by Jamie Kain.
I didn't enjoy this book as much as I was hoping I would. There was too much going on, and not a lot of time for everything to settle. You can read my Review HERE.
Firsts by Laurie Elizabeth Flynn.
I really enjoyed this book. Thank God it wasn't as crude as I thought it was going to be.You can read more of my thoughts about it HERE.
Phoenix Claws and Jade Trees by Kian Lam Kho.
This is a gorgeous cookbook!
HERE is my review.
I'll Give You The Sun by Jandy Nelson.
I'll Give You The Sun is the BEST BOOK EVER!
I love it so much, I CAN'T TAKE IT!!
You can read my Review HERE.
The Duff by Kody Keplinger.
This might be the funniest YA book I have ever read!
If you haven't read it, WHAT ARE YOU WAITING FOR!?
I must re-read this book soon! The movie is also AMAZING. It is nothing like the book, yet it is still just as good! I think I could watch it a million times and still LOVE it!


Review will be coming soon!! 😀
Why Not Me? by Mindy Kaling.
Mindy Mindy Mindy, oh how I LOVE MINDY!
She is sooo funny! I haven't read her first book yet but I will soon!
I recently got all caught up with her amazing show, The Mindy Project. God I love it! Mindy + Danny = ❤


Why Not Me was GREAT! If You haven't read it or watched her show, you should!
You can read my Review for Why Not Me? HERE.
Lock & Key by Sarah Dessen.
I think this one may be my most favorite Sarah Dessen book yet!
Review Coming Soon!
Hopefully I will want to read more in November because I have a Read-A-Thon to do and I don't want to flake out. SO We'll see what happens!


Sadly, I might be giving up on the TBR Jar Idea…Or maybe just for November since I already have a list of books I want to tackle before the month is up. 🙂
1.) Room by Emma Donoghue.
2.) Belzhar by Meg Wolitzer.
3.) Ask The Passengers by A.S. King.
4.) Sugar by Deirdre Riordan Hall.
5.) In Zanesville by Jo Ann Beard.
6.) Just Listen by Sarah Dessen.