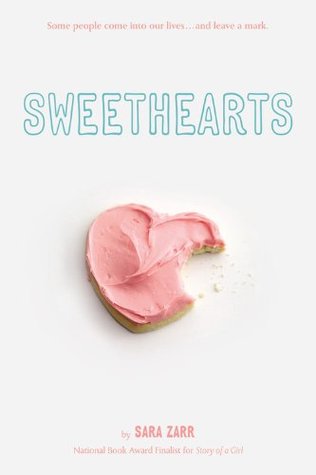 Book: Sweethearts.

Written By: Sara Zarr.
Pages: 217.
Synopsis: As children, Jennifer Harris and Cameron Quick were both social outcasts. They were also one another's only friend. So when Cameron disappears without warning, Jennifer thinks she's lost the only person who will ever understand her. Now in high school, Jennifer has been transformed. Known as Jenna, she's popular, happy, and dating, everything "Jennifer" couldn't be—but she still can't shake the memory of her long-lost friend.
When Cameron suddenly reappears, they are both confronted with memories of their shared past and the drastically different paths their lives have taken.
My Thoughts: Let me start off by saying, I did not enjoy the ending! All of this drama was going on and I feel like she had nowhere else to go, so she just ended it. I hated the way things ended with Jennifer and Cameron. Yes, it was better for him to do what he did, but I feel like nothing between them was resolved, or ever will be.
THIS BOOK IS TOO SHORT! I wanted more, I need more! after reading 2/3 of the book, everything became rushed like she was only allowed 217 pages. It just wasn't enough for me.
I didn't really get her friendship with Steph and Katy, it seemed like she was just their friend because she didn't want life to be like before. She was just with Ethan because someone, besides Cameron, wanted to be with her. She didn't like him, I didn't even like him. He was too pushy, and always just assumed she wanted what he wanted.
When Cameron came back I was excited for all of the possibilities, but nothing good really happened between them. I wish she had just told her friends the truth. Her being sneaky made it seem like she was embarrassed for Cameron. I know that had to make him feel bad. I just feel like everything could have turned out WAY better if she was honest.
In the end, I did enjoy the book, but I still feel like something is missing. I'm still looking forward to reading more from Sara Zarr. On Goodreads I gave this book 4 Stars but it's more like a 3.5 Stars.