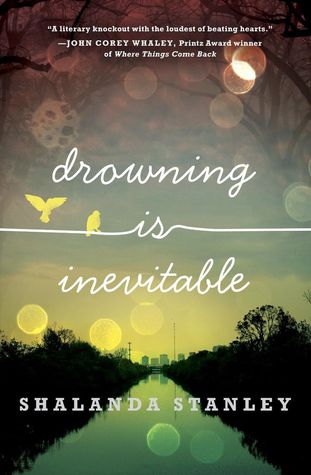 Book: Drowning Is Inevitable by Shalanda Stanley.
Synopsis: Olivia has spent her whole life struggling to escape her dead mother's shadow. But when her father can't even look at her because Olivia reminds him of her mother, and her grandmother mistakenly calls her "Lillian,"  shaking a reputation she didn't ask for is next to impossible. Olivia is used to leaning on her best friend, Jamie; her handsome but hot-tempered boyfriend, Max; and their wild-child friend, Maggie, for the reality check that her small Louisiana town can't provide. But when a terrible fight between Jamie and his father turns deadly, all Olivia can think to do is grab her friends and run.
In a flash, Olivia, Jamie, Max, and Maggie become fugitives on the back roads of Louisiana. They're headed to New Orleans, where they hope to find a solution to an unfixable problem. But with their faces displayed on all the news stations, their journey becomes a harrowing game of hide-and-seek from the police—and so-called allies, who just might be the real enemy.
The Rules:
Grab a book, any book.
Turn to page 56 or 56% in you E-Reader. (If you have to improvise, that's okay.)
Find any sentence, (or few, just don't spoil it)
Post it.
Add your URL post below in the Linky. (Add the post URL, not your blog URL.)
It's that simple!
Page 56: 
The Next morning I sat up with a loud gasp, disconnecting from Max's body and looking out at the lake. It wasn't a nightmare. This was real life.
*The Friday 56 is a Weekly Meme hosted by Freda's Voice.