In honor of Fall TV, do a TV-themed topic!
Top Ten Favorite TV Shows of All Time: (In No Particular Order).
1.) The Nanny.


The Nanny is probably my most favorite TV Show EVER!!! I can watch
this show over and over and OVER again…Believe me, I already have,
and I will do it again!! 
2.) WWE Raw (Attitude Era).


Wrestling was always a childhood favorite. I kind of fell off of the
band wagon after the attitude ear ended, and all of these bubble gum
pop sweet wrestlers came along. There are still a few wrestlers that
I love to watch like Kevin Owens and Sasha Banks, but nothing
will ever replace the Attitude Era! ❤
3.) Roseanne.


Roseanne Barr is my girl! I've loved this show for YEARS, and I try to
make sure a watch a Roseanne Marathon every Christmas Eve. 🙂
4.) The Mindy Project.


I've been watching this show since day one, and I can't see myself
ever stopping! Mindy Kaling is one of the funniest people I've ever
come across. Even though her shenanigans can be a little ridiculous,
they are very entertaining. Mindy+Jody FOREVER!
5.) Law & Order SVU.


At first I was never a big fan of the show…I kind of liked criminal 
Intent better. But once I started watching it with my sister
(she's OBSESSED), I was hooked, and I haven't looked back.
I love me some Olivia Benson! 🙂
6.) Chicago MED


This is another show I got hooked on because of my sister. I never
in a million years thought I would be in love with a Medical Drama,
and I AM! My favorite characters are Sarah, and Dr. Choi. I ❤ them!
7.) Broad City.


When I first came across Broad City, I was kind of scared to watch it, 
because I am known to be a bit of a prude…Anyway, one day I just
took the plunge, and I haven't looked back since. These two Ladies
are HILARIOUS! If you haven't already, you should really check
out this show. You won't be sorry! 😀
8.) The Andy Griffith Show.


This is a show I use to watch all the time with my dad. My sisters
like to make fun of me for watching these kind of old shows, but
I just can't help it. I love them and they remind me of my dad. ❤
 9.) Unbreakable Kimmy Schmidt.


This is a new show on my favorites list. It is FUNNY AS HELL! Netflix
sure knows what they hell they are doing! I just wish there were more
episodes per season.
10.) Grace & Frankie.


I love me some Jane Fonda, so when I heard about this new show on Netflix,
I jumped right in! Some might turn their heads to two older women, but
those people are dumb, and they are surely missing out! This is one of
the best shows on Netflix, so if you haven't watched it, you need to
start….NOW!!! They might be older, but these two still got it!
11.) Parenthood.


OH MY HEART!!! This is one of the best TV Shows that was ever created!
I JUST LOVED WATCHING IT!! I wish it was still on today! 😦
12.) Veronica Mars.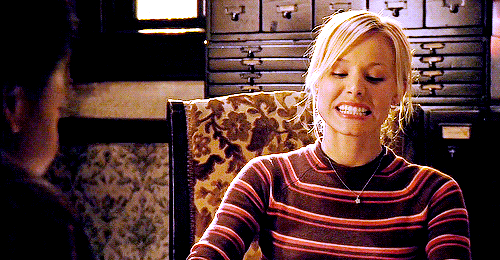 Sadly, I was a late starter on this one. I started watching this show 
after it was already cancelled! 😦 WHY DID IT HAVE TO GET 
CANCELLED!? Anyway, Veronica is the bomb! I just love
this show SO MUCH!!! At least they started a books 
series…Speaking of, I STILL need to read the 
second book!! Oops! 😐
13.) Gomer Pyle U.S.M.C.


Believe it or not, but this is also one of my favorites!! I started
watching it with my dad, and then I was HOOKED!! I think I 
watched the whole series in a week!!! I still go back and
watch it from time to time. 🙂
14.) Gimme A Break.


Last but certainly not least, is my girl Nell Carter! I can't tell you
how much I love this show. It's just great! 🙂 The DVD people 
need to stop screwing around, and they need to hurry up
and put the rest of the series out! I NEED IT IN MY LIFE!
EDIT!
16.) Psych.


I can't believe I almost forgot about PSYCH!!!! I LOVE THIS SHOW!!
Guts (You'll know why I called him that if you watch the show) is my
FAVORITE!!! He's so cute! 🙂

*Top Ten Tuesday is a weekly meme
hosted by The Broke and the Bookish.