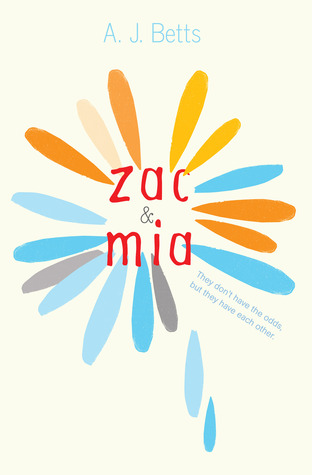 Book: Zac & Mia by A. J. Betts.
Synopsis: "When I was little I believed in Jesus and Santa, spontaneous combustion, and the Loch Ness monster. Now I believe in science, statistics, and antibiotics."
So says seventeen-year-old Zac Meier during a long, grueling leukemia treatment in Perth, Australia. A loud blast of Lady Gaga alerts him to the presence of Mia, the angry, not-at-all-stoic cancer patient in the room next door. Once released, the two near-strangers can't forget each other, even as they desperately try to resume normal lives. The story of their mysterious connection drives this unflinchingly tough, tender novel told in two voices.
The Rules:
Grab a book, any book.
Turn to page 56 or 56% in you E-Reader. (If you have to improvise, that's okay.)
Find any sentence, (or few, just don't spoil it)
Post it.
Add your URL post below in the Linky. (Add the post URL, not your blog URL.)
The 56:
MIA: R u a girl?
ZAC: No

I opt for a short message. Brief is better. This touch screen is a minefield.

ZAC: I'm here
            A male

I added the last part for clarification, though I lose a few seconds considering the options of "boy" and "man." Surely she knows I'm male! She's seen me through my window at least four times.

*The Friday 56 is a Weekly Meme hosted by Freda's Voice.