Ten Seven Eight Books That Will Make You Laugh (or at least chuckle):
This week's topic is a hared one seeing as I don't usually read many funny books. Well, the only books I can think of that REALLY made me laugh, are memoirs. Oh I'll do as much as possible.
1.) My Horizontal Life by Chelsea Handler.
2.) Are You There, Vodka? It's Me Chelsea by Chelsea Handler.
3.) Chelsea Chelsea Bang Bang by Chelsea Handler.
I can't have a list of funny books, and not include Chelsea Handler books.
This lady is HILARIOUS! These books had me laughing from beginning to end.
I need to hurry up and read her latest book, Uganda Be Kidding Me. I already know
it's going to be a laugh riot! 😆
4.) Why Not Me? by Mindy Kaling.
Mindy Kaling is one of the funniest women I have ever come
across. I just LOVE her! I'm OBSESSED with her show, The Mindy
Project. The season just started up again, and I can't wait to get into it!
Sadly, I STILL haven't read her first book…I'll get to it soon, I PROMISE!
5.) The Duff by Kody Keplinger.
Bianca Piper is one of the funniest/realest female characters, I've ever
had the pleasure of reading about. She is a riot…She is just too much!
I love her! 🙂
6.) OCD Love Story by Corey Ann Haydu.
I didn't expect to laugh so much during this book…I don't even
know if what I was laughing about was suppose to be funny…Oh well!
It's a great book, everyone should read this at least once!
7.) The Ruby Circle by Richelle Mead.
This book made me laugh, but not in a good way. I can't believe I
wasted my time reading this series. Nothing good happened in the end.
Next time I just need to go with my instincts. Sydney was so strong in the
beginning, and she just turned into a complete goof.
EDIT!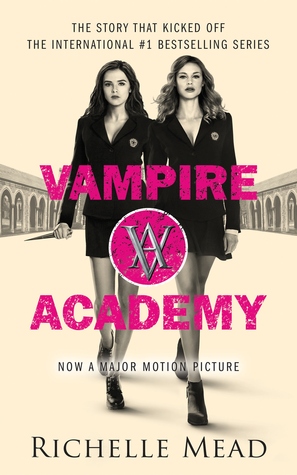 8.) Vampire Academy by Richelle Mead.
HOW DID I FORGET ABOUT VAMPIRE ACADEMY!?
Rose is too much! She had my laughing for most of the series!
I ❤ Rose!
I guess that's all I got for this week…I can't think of anything else!
What are some of your favorite funny books?
Let me know down in the comments! 😀

*Top Ten Tuesday is a weekly meme
hosted by The Broke and the Bookish.