I've never read a book about time travel, so for this week's Top 5 Wednesday, I thought I would go back and do a topic I've never done. So, this week's topic is going to be:
February 26th 2014: Top Books You'd Like to See Be Movies.

1.) Something Blue by Emily Giffin.
There was already a movie about the first book in this
duology, Something Borrowed. I watched and loved it.
Seeing how this book turns out, I think this would also be
a great movie, with the same characters of course!

2.) Invisible Monsters by Chuck Palahniuk.
I'm not usually into thrillers, but if this were a movie,
I'd watch it without a second thought! This is such a great
book! It's not something I would normally read, but I read it,
and it's one of the best books I have EVER read. If you haven't
go read it. You won't be sorry!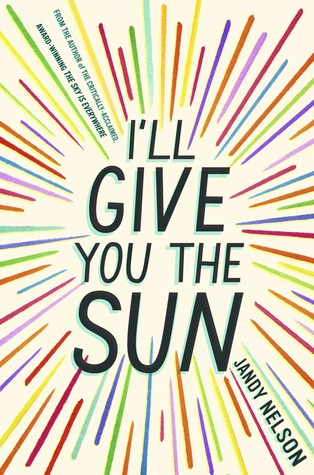 3.) I'll Give You The Sun by Jandy Nelson.
I just know this would be an AMAZING movie! I think I would
die, if this happened! It's my favorite read of 2015. They would
have to get the best actors to play the characters, because I don't
need to second rate crappy actors trying to ruin something so
great. Both of Jandy's books are amazing, and I can't wait to see
what she comes up with next.

4.) Saint Anything by Sarah Dessen.
To tell the truth, I think ANY of Sarah Dessen's books
would make a great movie! But out of all of them, I would
REALLY like to see Saint Anything as a movie. I feel like it
would make a cute indie film. 🙂

5.) Ketchup Clouds by Annabel Pitcher.
I'm not much of a re-reader, but If I were to reread any
book, Ketchup Clouds would be in my Top 5. I think if it was
but in the right directors hands, it would turn out great!
I'm pretty sure I've never done this Top 5 before, but if I have, sorry! You can't just say this is part 2 then. 😉
What are some books that you would love to see as movies?
Let me know down in the comments.

*Top 5 Wednesday is a weekly meme created by GingerReadsLainey.  To find out more/Join, check out the Top 5 Wednesday Goodreads group here.