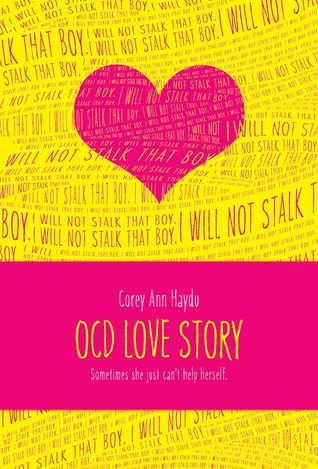 The Book: OCD Love Story by Corey Ann Haydu.
Synopsis: When Bea meets Beck, she knows instantly that he's her kind of crazy. Sweet, strong, kinda-messed-up Beck understands her like no one else can. He makes her feel almost normal. He makes her feel like she could fall in love again.
But despite her feelings for Beck, Bea can't stop thinking about someone else: a guy who is gorgeous and magnetic… and has no idea Bea even exists. But Bea knows a lot about him. She spends a lot of time watching him. She has a journal full of notes. Some might even say she's obsessed.
Bea tells herself she's got it all under control. But this isn't a choice, it's a compulsion. The truth is, she's breaking down…and she might end up breaking her own heart.
The Rules:
Grab a book, any book.
Turn to page 56 or 56% in you E-Reader. (If you have to improvise, that's okay.)
Find any sentence, (or few, just don't spoil it)
Post it.
Add your URL post below in the Linky. (Add the post URL, not your blog URL.)
The 56:
"Or maybe it's Austin who is the real pull.

He reminds me of someone else. Like another guy I used to like who had the same skinny unkempt-ness, the same ironic T-shirts. It makes my heart swing in my chest. He's not my usual type, I guess, but he does look like that guy Jeff. The first kiss one. The one I don't like to think about. Cooter's old best friend. I push the thought away. The memory of a first kiss sticks to your heart pretty ferociously; I think that's true for everyone, but especially me."

*The Friday 56 is a Weekly Meme hosted by Freda's Voice.