Biggest Badasses:
1.) Rosemarie Hathaway – Vampire Academy Series by Richelle Mead.

A lot of the time Rose acts before she things, which isn't
always a good thing, but she always stands up for what is right.
She always puts others before herself, she went through a lot, and
never thinks of herself as a victim. There were so many times
where she wanted to quit (and I'm pretty sure that a lot of people in her
position would), but she always kept going.
2.) Johanna Mason – Catching Fire by Suzanne Collins.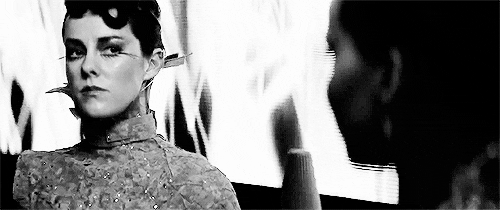 This girl didn't give a F**k from the first time we meet her,
to the last time she is mentioned in the book. She is my favorite
character out of all the others. She is ride or die.
3.) Bianca Piper – The Duff by Kody Keplinger.

Bianca is also a character who doesn't give a F**k!
She has no filter what so ever, she says what she thinks,
no matter who is around to hear it.
4.) Katniss Everdeen – Mockingjay by Suzanne Collins.

At the beginning of the story I didn't really consider her to be a
badass. I always thought it was something be became gradually
throughout the story. But when you really think about it,
who is going to put herself in those situations just to make sure
other people are safe? Not many!
5.) Veronica Mars – Veronica Mar Series by Rob Thomas & Jennifer Graham.

She's a teenager, who solved her best friends murder, with plenty
of other mysteries along the way.What's more badass than that?
Who are some of your favorite Badass Characters?

*Top 5 Wednesday is a weekly meme created by GingerReadsLainey.  To find out more/Join, check out the Top 5 Wednesday Goodreads group here.