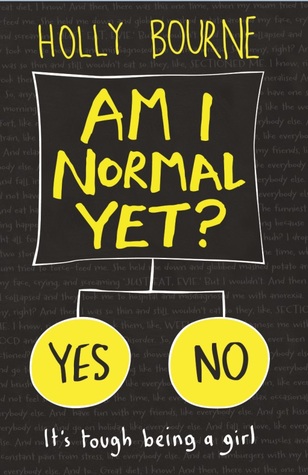 Book: Am I Normal Yet? by Holly Bourne.
Synopsis: All Evie wants is to be normal. She's almost off her meds and at a new college where no one knows her as the girl-who-went-crazy. She's even going to parties and making friends. There's only one thing left to tick off her list…
But relationships are messy – especially relationships with teenage guys. They can make any girl feel like they're going mad. And if Evie can't even tell her new friends Amber and Lottie the truth about herself, how will she cope when she falls in love?
The Rules:
Grab a book, any book.

Turn to page 56 or 56% in you E-Reader. (If you have to improvise, that's okay.)

Find any sentence, (or few, just don't spoil it)

Post it.

Add your URL post below in the Linky. (Add the post URL, not your blog URL.)
The 56: 
I laughed so hard actual spittle flew onto our entwined hands. "Seriously," he protested, not noticing the spit. "Why are you laughing? It's not funny. It's a very serious condition." I tried to calm myself. "Well, technically, it's not been confirmed as an actual medical condition(the things you learn from fellow patients), but I'll go with you for a second…why do you thing you're a sex addict?

*The Friday 56 is a Weekly Meme hosted by Freda's Voice.