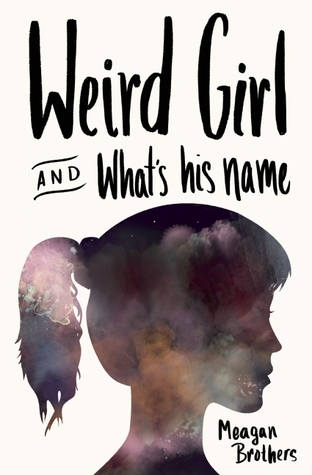 Book: Weird Girl and What's His Name.

Written By: Meagan Brothers.
Pages: 336.
Synopsis: In the Podunk town of Hawthorne, North Carolina, high school geeks Lula and Rory share everything—sci-fi and fantasy fandom, an obsession with old X-Files episodes, and that feeling that they'll never quite fit in. Lula and Rory have no secrets from each other; after all, she knows he's gay, and he understands why she worships the mother that walked out on her. But then Lula discovers that Rory has not only tried out for the football team, but has been having an affair with his middle-aged divorcee boss. With their friendship disrupted, Lula begins to question her very identity, and when she disappears in the middle of the night, Rory is left to survive on his own.
My Thoughts: Hmm… where do I even begin? I am in LOVE with this book, so much so that I can barely even put together the words to tell you how I feel, but I will do my best to try. I feel like I've haven't read a PERFECT 5 star book in a while and I was starting to lose hope. I am so glad that Weird Girl and What's His Name came into my life and was able to fill the void that I haven't been able to fill with all of these duds lately.The first time I laid eyes on this book, I just felt an unexplained force drawing me to it. I didn't know what it was and I still don't know what it is…but I am glad it brought us together.
From the second I picked up Weird Girl, I was hooked, I didn't want to put it down…I COULDN'T put it down. Yes, it may have some cliche qualities that can get old ie unpopular teens, absentee parents, sexual identity crisis , but how the story is told, was anything but. From the beginning I knew I was going to love Lula and Rory. Their friendship is exactly the type of friendship everyone searches for. They were lucky to have been with each other for so long and that they were able to grow up with another person who understood each other so completely.
Usually, I have a clear cut favorite character in 95% of the stories I read, but this time around, I am finding it VERY hard to choose which one takes the cake. Usually I despise at least one of the main characters but this time things were a little different…To my surprise, I loved both Lula and Rory! While reading from Rory's perspective, I gravitated towards him the most, so much so that I thought it was going to be an issue when reading from Lula's perspective (which is one of the reason I usually don't like reading stories from multiple perspectives) but as it turned out that was not an issue because I loved her just as much.
As I said before,I know I'm not big on multiple POVs, but because of how amazing the story was and how well it was written, I wasn't bothered by it at all and actually found it interesting. The story felt so real and so tangible and I felt like I was actually having a real live conversation with Rory and Lula. At times it felt like they were asking me questions, and waiting for my response.
I said earlier that there were many cliches involved in telling this story and usually I would have been rolling my eyes. But Meagan Brother did a really great job of showing that you can't put anyone in one specific box. That the stereotypes you see in the world about homosexuality and religious people, cannot be a blanket generalization and she made that clear when she told Rory's story. It was really refreshing to see.
How can I talk about this book, without mentioning X Files? I love the way the author incorporated the X Files into the story. A lot of times when people try to incorporate real life pop culture in their books, they don't do it right and it ends up being… I don't know… cheap? I don't know, it is like the reference was used for no reason because at the end of the day, it serves no purpose in the story. In this case, Lula felt as if it had mirrored her relationship with Rory and it was an interesting comparison in my opinion. I don't want to say too much about that because I do not want to give away too much of this story.
Weird Girl and What's His Name is one hell of a book, and if you don't find it interesting enough to pick up, then you are out of it. I just know that it is going to stay at the top of my list for 2016. This book gets 5 Stars, it is well deserved! 😀
⭐ ⭐ ⭐ ⭐ ⭐