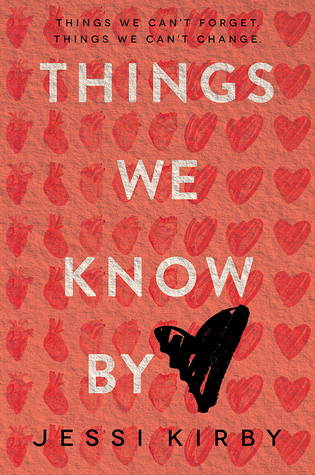 Book: Things We Know By Heart by Jessi Kirby.
Synopsis: After Quinn loses her boyfriend, Trent, in an accident their junior year, she reaches out to the recipients of his donated organs in hopes of picking up the pieces of her now-unrecognizable life. She hears back from some of them, but the person who received Trent's heart has remained silent. The essence of a person, she has always believed, is in the heart. If she finds Trent's, then maybe she can have peace once and for all.
The Rules:
Grab a book, any book.
Turn to page 56 or 56% in you E-Reader. (If you have to improvise, that's okay.)
Find any sentence, (or few, just don't spoil it)
Post it.
Add your URL post below in the Linky. (Add the post URL, not your blog URL.)
The 56:
 I laugh and lean into him, and for a second I forget myself and let a hand fall on his leg like the familiar gesture that it is. He stops mid-sentence and glances down just as I take it away. There's a long moment of quiet. I try and think of something to say. Colton checks his watch. Clears his throat.

*The Friday 56 is a Weekly Meme hosted by Freda's Voice.