Books You're Thankful For:
Every MEME for this week is about book we are thankful for. I am going to try and use different books for each post, so If you would like to see what I chose for my Top Ten Tuesday, you can click HERE.
Anyways, let's get started! 😀

1.) The Hotel New Hampshire by John Irving.
I ❤ this book so much! I is AMAZING! Going into this book, I didn't know about all of the weird things that were going to come up, but it was still enjoyable. I read this when I was younger, so I never really read a book that deals with the issues in this book like Incest, and suicide. This book opened my eyes, and got me to read more Adult Fiction. I know I still don't read it that much, but I think that if I never had read this book, I wouldn't have wanted to give another Adult book a chance. Most Adult books are about people that I can't relate to whether it be the fact that they are married with children, or the BIGGEST deal breaker…THEIR AGE! I don't like reading books where the protagonist is over 30. I know whatever call me a book snob, call me whatever, but I just feel like I can't relate to them.

2.) Invisible Monsters by Chuck Palahniuk.
Fight Club and Invisible Monsters, introduced me to the weird and creepy world of Chuck Palahniuk, and I LOVE IT! I can't wait to read more of his books. The next books I REALLY want to read, are Lullaby and Doomed.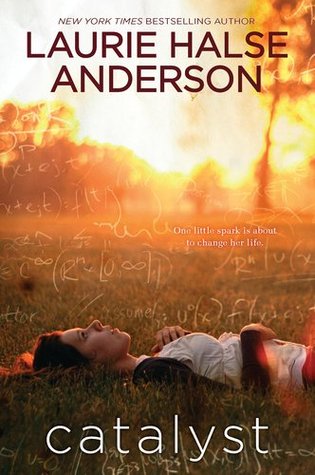 3.) Catalyst by Laurie Halse Anderson.
Catalyst is my FAVORITE book written by Laurie Halse Anderson. I have read this book like 10 times! I really love with newer cover. I tried to order a used copy of it off of Thriftbooks, but when I received the book, IT WAS THE WRONG COVER!! 😦 and on top of that, it was gross! Oh well, I'll keep looking.

4.) Something Borrowed by Emily Giffin.
5.) Something Blue by Emily Giffin.
I would have never thought that I would be OBSESSED
with an Emily Giffin book. I know…


but I'm not really into Women's Chick Lit. When the movie based off of Something Borrowed starring Ginnifer Goodwin and Kate Hudson, was released, I watched it and LOVED it. Then I found out that it was a book and so I HAD TO READ IT! After going to Barnes and Noble and finding it on the Bargain shelf(HOLLA!) I noticed that there was a book called Something Blue, which is the second book in the Duology!!! I didn't even think about it, I grabbed them both, and I am SOO GLAD I did. These two books are the BOMB! Some people might not agree, but they are so great. 😀
Happy Thanksgiving!!


*Top 5 Wednesday is a weekly meme created by GingerReadsLainey.  To find out more/Join, check out the Top 5 Wednesday Goodreads group here.