Books You Did Not Finish:
1.) Chocolates For Breakfast by Pamela Moore. I really tried with this book. The main character Courtney Farrell, got on my last nerve! She was VERY bratty and I just couldn't stand her!


On Goodreads, it says that this is a Classic…Is this really a Classic??

2.) Breathe My Name by R.A. Nelson. This book was going good until a plot twist that can't be saved happened. I was like:


I really wanted to like this book. It was just IMPOSSIBLE!
3.) Taming The Beast by Emily Maguire. This one was kind of my fault. I didn't realize I picked up an EROTICA book!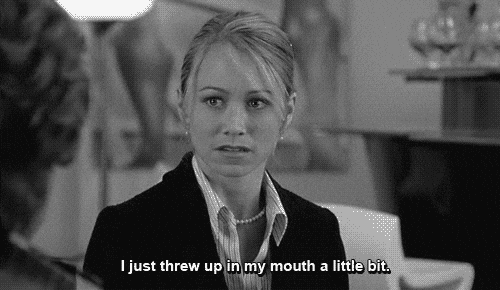 4.) Plain Truth by Jodi Picoult. I tried to read this, but it just wasn't my thing.


I picked it up more than once, but I just couldn't do it, so I gave it away to someone who would hopefully enjoy it. 🙂
5.) I Take You by Eliza Kennedy……………………

*Top 5 Wednesday is a weekly meme created by GingerReadsLainey.  To find out more/Join, check out the Top 5 Wednesday Goodreads group here.