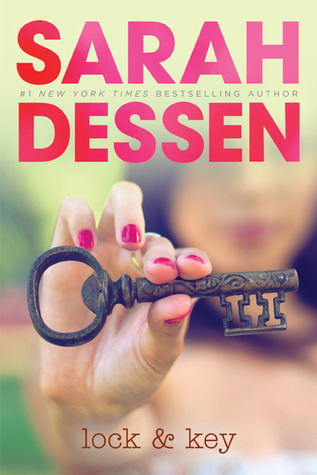 Book: Lock & Key by Sarah Dessen.
Synopsis: Ruby, where is your mother?
Ruby knows that the game is up. For the past few months, she's been on her own in the yellow house, managing somehow, knowing that her mother will probably never return.
That's how she comes to live with Cora, the sister she hasn't seen in ten years, and Cora's husband Jamie, whose down-to-earth demeanor makes it hard for Ruby to believe he founded the most popular networking Web site around. A luxurious house, fancy private school, a new wardrobe, the promise of college and a future; it's a dream come true. So why is Ruby such a reluctant Cinderella, wary and defensive? And why is Nate, the genial boy next door with some secrets of his own, unable to accept the help that Ruby is just learning to give?
The Rules:
Grab a book, any book.
Turn to page 56 or 56% in you E-Reader. (If you have to improvise, that's okay.)
Find any sentence, (or few, just don't spoil it)
Post it.
Add your URL post below in the Linky. (Add the post URL, not your blog URL.)
The 56:  
Cora became my one constant, the single thing I could depend on to be there and to remain relatively unchanged, day in and day out. At night in our shared room, I'd often have to lie awake listening to her breathing for a long time before I could fall asleep myself.
*The Friday 56 is a Weekly Meme hosted by Freda's Voice.