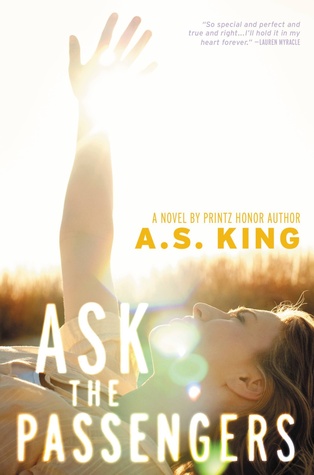 Book: Ask The Passengers by A.S. King.
Synopsis: Astrid Jones desperately wants to confide in someone, but her mother's pushiness and her father's lack of interest tell her they're the last people she can trust. Instead, Astrid spends hours lying on the backyard picnic table watching airplanes fly overhead. She doesn't know the passengers inside, but they're the only people who won't judge her when she asks them her most personal questions…like what it means that she's falling in love with a girl.
As her secret relationship becomes more intense and her friends demand answers, Astrid has nowhere left to turn. She can't share the truth with anyone except the people she imagines flying over her at thirty thousand feet, and they don't even know she's there. But little does Astrid know just how much even the tiniest connection will affect these strangers' lives–and her own–for the better.
The Rules:
Grab a book, any book.
Turn to page 56 or 56% in you E-Reader. (If you have to improvise, that's okay.)
Find any sentence, (or few, just don't spoil it)
Post it.
Add your URL post below in the Linky. (Add the post URL, not your blog URL.)
The 56:
 I think if we kept a calendar of who gets called gay in high school, there would be a new person on every single day of the 180-day school year. Gay, dyke, fag, lesbo, homo, whatever. Every single one of us has heard it somewhere along the ride. It's more common than the flu. More contagious, too. Nobody gossips about whether you have the flu or not.
*The Friday 56 is a Weekly Meme hosted by Freda's Voice.