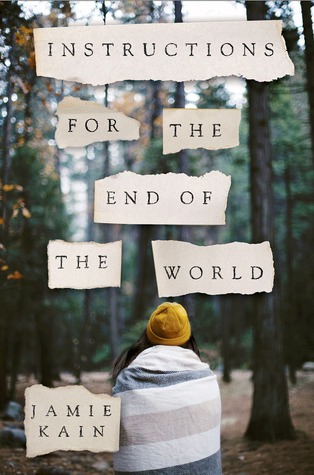 Book: Instructions For The End Of The World.

Written By: Jamie Kain.
Pages: 224.
Category: Children's Fiction.
Teen & YA.
Publisher: St. Martin's Press.
St. Martin's Griffin.
Release Date: December 8th, 2015.
Synopsis: He prepared their family for every natural disaster known to man–except for the one that struck.
When Nicole Reed's father forces her family to move to a remote area of the Sierra Foothills, one without any modern conveniences, it's too much too handle for her mother, who abandons them in the middle of the night. Heading out to track her down, Nicole's father leaves her in charge of taking care of the house and her younger sister, Izzy. For a while, Nicole is doing just fine running things on her own. But then the food begins to run out, the pipes crack, and forest fires start slowly inching their way closer every day. Wolf, a handsome boy from the neighboring community, offers to help her when she needs it most, but when she starts to develop feelings for him, feelings she knows she will never be allowed to act on once her father returns, she must make a decision. With her family falling apart, will she choose to continue preparing for tomorrow's disasters, or will she take a chance and really start living for today?
My Thoughts: I'm not a fan of books that jump from one character to the next. There is too much going on in this book and it gets confusing or it starts to get boring. There were many times when I wanted to skip ahead, or just give up.
I found it hard to picture what these characters actually looked like. Most of the time, books describe a person the first time they are introduced in a story. Unless I am blind, or just missed it, that didn't happen here. I feel like it took forever to find some kind of description for anyone. I think we get more descriptions in the last third of the book, which doesn't really help anything.
What is wrong with the parents in this book!? Wolf's mom, Annika is a lowlife. If Wolf really wanted her to leave him alone, he should have just opened his mouth and told her how he really feels. I'm sorry (No I'm not!) but, Annika is a terrible mother who doesn't deserve to even know what the love of a child feels like. That may sound horrible, but I can't stand deadbeat mothers/parents! Speaking of deadbeat mothers, why would you leave your children in the middle of nowhere because you are miserable!? TAKE THEM WITH YOU!! I can't believe Nicole and Isabel's mom left them with their crazy ass father. All of the parents in the book, are CRAZY AS HELL!!
I can't stand Isabel. She acts like she is too good to help with anything. Who died and made her queen? I understand that the dad is being ridiculous, (the man needs help) but she doesn't have to give her sister such a hard time. It's just sad that something horrible had to happen to her, to make her straighten up.
Wolf and Nicole's connection wasn't really there. They didn't really seem to match. I still don't get it.
I really had high hopes for this book. The story line was such a great idea, but it just fell flat. It was missing something, it was missing a lot. I think it would have been better if it was only from Nicole and Wolf's point of views…there is one person in particular that didn't really need to be in the story *Cough*Laurel*Cough* She didn't do much for the story. I feel like the author was trying to hard, yet, not hard enough.  I gave this book 3 Stars.