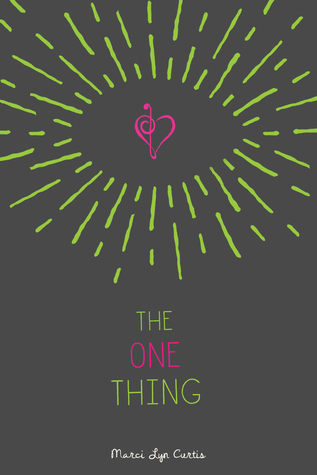 Book: The One Thing.
Written By: Marci Lyn Curtis.
Pages: 336.
Category: Teens & YA.
Publisher: Disney Book Group.
Release Date: September 8th, 2015.
Synopsis: Maggie Sanders might be blind, but she won't invite anyone to her pity party. Ever since losing her sight six months ago, Maggie's rebellious streak has taken on a life of its own, culminating with an elaborate school prank. Maggie called it genius. The judge called it illegal.
Now Maggie has a probation officer. But she isn't interested in rehabilitation, not when she's still mourning the loss of her professional-soccer dreams, and furious at her so-called friends, who lost interest in her as soon as she could no longer lead the team to victory.
Then Maggie's whole world is turned upside down. Somehow, incredibly, she can see again. But only one person: Ben, a precocious ten-year-old unlike anyone she's ever met.Ben's life isn't easy, but he doesn't see limits, only possibilities. After awhile, Maggie starts to realize that losing her sight doesn't have to mean losing everything she dreamed of. Even if what she's currently dreaming of is Mason Milton, the magnetic lead singer of Maggie's new favorite band, who just happens to be Ben's brother.
But when she learns the real reason she can see Ben, Maggie must find the courage to face a once-unimaginable future…before she loses everything she has grown to love.
My Thoughts: I went into this book not really knowing what to expect. In the end I found it to be awesome! The One Thing is sad, but It also has its funny moments, so there's a balance, making this book not overly sad. Everything from the writing, to the characters was great. Once I started reading, I knew I was gonna love it. Maggie's voice is real and very relatable. She is a bit bratty, but who wouldn't be in that situation? To feel like you are on top of the world, having the best of friends, being the star soccer player, and in what feels like seconds, have everything taken away from you…It has to be heartbreaking. I don't know if I could have done it.
Ben is one of the greatest things about this book. He is adorable and has the biggest heart. Ben sees good in everyone, even if you don't deserve it. He was very refreshing. When we find out why she thinks she can only see certain people, I was actually a little shocked. I did have a feeling about it when she was able to see the dog, who was hit by a car, and the woman with cancer talking to her mom, but it still sucked.
I REALLY enjoyed this book, but one thing that was a little too much, was the part where she stared playing her song on the piano, and he started singing a song he wrote. I'm sorry but all I could think of while reading that part, was how CHEESY it was. I feel like most of the book was perfect, and the last few chapters were filled with unnecessary Cheesiness! I don't know…it just made me squirm a little.
Something I noticed at the beginning (and in the book description) is, it was mentioned that Maggie has a probation officer, but you don't hear much about it after that. That could have been left out. I don't really feel like it was a big part of her story. Yes, that is where she met Ben, but she could have met him anywhere! It (for me) didn't do much for the story.
You can expect to see The One Thing by Marci Lyn Curtis, on the shelves sometime in early September. Everyone needs to read it! You won't regret it. I gave The One Thing 4 Stars.