I discovered this Tag on Summer's (@xingsings) blog.  It was created by Analee @ booksnacksblog.
I wasn't tagged, but I just thought it would be something fun to do.
Pure Paradise: A book that was simply perfection.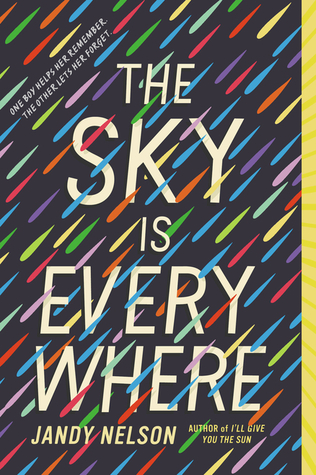 The Sky is Everywhere by Jandy Nelson.  This is one of the best books I've read this year so far.  It has the right amount of everything. I was never bored, I couldn't put it down. 5 Stars.
Sweet Pea: A romance/contemporary novel that you really enjoyed.
Second Chance Summer by Morgan Matson.  I don't think I have cried so hard while reading a book, as I did with this book.  Everyone needs to read this book.  I read the e-book and I loved it so much that now, I need to own a physical copy. 5 Stars.
Fresh Strawberries: A book you really enjoyed that came out this year.
Saint Anything by Sarah Dessen. This is the first book I've ever read by Sarah Dessen, and let me just say that it was AMAZING!  I can't wait to read the rest of her books. 5 Stars.
Warm Vanilla Sugar: A character and or book that made you feel are warm and smiley.
To All the Boys I've Loved Before by Jenny Han. This book made me feel soo cheesy, and I don't care.  I really enjoyed it. 4 Stars.
Paris Amour: A couple you majorly ship together.
Lola and the Boy Next Door by Stephanie Perkins. Lola + Cricket = ❤ . Every time she talked about Cricket I just wanted to explode.  They belong together forever and ever and ever! I still haven't read Isla and the Happily Ever After, but if it is anything like the first two books, it's going to be amazing! Everyone needs to read these books! 5 Stars.
Dancing Waters: A book that takes place on a beach/perfect beach read.  
The Summer of Chasing Mermaids by Sarah Ockler. It's the first fairy tale retelling I've read, and I really enjoyed it. It's a retelling of The Little Mermaid, so of course it involves the beach. This is the second book I have read by Sarah Ockler, and I think she just might become one of my faves. 4 Stars.
I ❤ cake books: Favorite book/character.
Catalyst by Laurie Halse Anderson. I can say hands down, that this is one of my favorite books of all time.  I've read it, what seems like a million times, and I can read it a million more! 5 Stars.
Winter Candy Apple: A book set around Christmas or during winter.
Lovely, Dark and Deep by Amy McNamara.  I loved this book.  I would have given it 5 Stars if Owen didn't get on my nerves so much.  It was still great though. It has great quotes throughout the book, I couldn't put it down. 4 Stars.
Beautiful Day: A book with an unusual/interesting/appealing setting.
The Murmurings by Carly Anne West. This whole book was unusual, but very enjoyable. It was based in Arizona, and I live in Arizona, so that made it a bit more creepier. 4 Stars. (Arizona is interesting and appealing soo…)
Dazzling Diamonds: Gorgeous cover(s).
The Nature of Jade by Deb Caletti. This was the first book I read by Deb Caletti. After that, I fell in love and I had to read all of her books.  Sadly I haven't read the last two YA books, that have been published, but don't worry they are on my TBR. Every time I see this cover of The Nature of Jade, I can't help but to stare at it for a while.  I think it is soo beautiful.

5 Stars