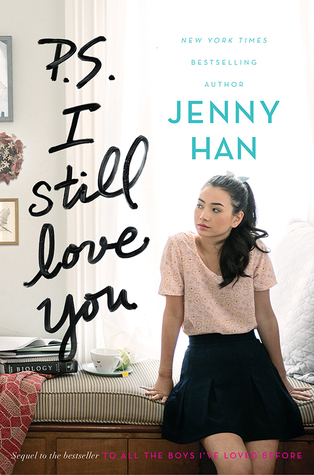 Book: P.S. I Still Love You.

Written By: Jenny Han.
Pages: 337.
Synopsis: (From Book.) Lara Jean didn't expect to really fall for Peter.  She and Peter were just pretending. Except suddenly they weren't. Now Lara Jean is more confused than ever.  When another boy from her past returns to her life, Lara Jean's feelings for him return too. Can a girl be in love with two boys at once?
My Thoughts: Yeah, so I don't know where to start.  Don't get me wrong, this was a great book, but I just feel a little crossed.  I feel that she didn't end up with the right guy.  In my opinion, Peter cared WAY more about Gen than he did Lara Jean.  Yeah, I know that she was going through some stuff but, LJ is his girlfriend not Genevieve.  I'm sure she had someone else she could have went to for help.  Then again, as heartless as she is, I'm sure a lot of people want nothing to do with her.  The fact that she was behind the video, and it didn't change how he was with Genevieve, is a big red flag.  She was an all around evil person.  The fact that her dad is swine, doesn't give her the right to be so devious.
Peter should have put himself in Lara Jean's shoes, or he could have at least told her what was going on so she didn't have to sit around just assuming the worst.  Even though he physically wasn't cheating on her, I just don't think his relationship with Gen was acceptable.  Don't get me wrong, Lara Jean wasn't all that innocent.  She was hanging out with John Ambrose, she had feelings for him, and it wasn't fair for her to lead him on like that.
Peter was very selfish and I wish she would have went with John Ambrose, not right away but I think they would have been a better match.  He was all she has ever dreamed of, but of course she chose the Peter…
A big problem I have with Lara Jean is the fact that she is VERY Naive.  She needs to wake up and look around her, and see that the world is not all rainbows and butterflies.  Just because you like a boy, it doesn't mean it is true love.  I was sure that after she saw the way Peter reacted when he saw that she was with John Ambrose at the USO party, she would be done with him for good.  Sadly I was wrong.  I really don't get what she see in him.  I was kind of rooting for him in first book To All The Boys I've Loved Before, now I hate his guts.   LJ needs to learn that when it comes to Genevieve, she will always be second.  And yes at the end of the book she tried to justify why she needed to be with Peter, and some may agree, but I don't.
WHY DIDN'T SHE JUST GO WITH JOHN AMBROSE!?  WHY PETER, WHHYYYYY!!??
I'll get over it….Someday.
Even though it seems like all I wrote about were the negatives,  I really did enjoy this book.  My favorite character would still have to be little Miss Kitty.  I like that she is a loud mouth, and doesn't take crap from anyone.  She has a rough exterior but she has a good heart.  She knows what she wants, and she goes all in to get it.  And she was the go to person, when you needed advice. (she was 9 years old) I also liked how great their bond was as sisters.  They are always there for each other, with no judgement. As soon as the problem with the hot tub make out video came up, Margot took action, and calmed her down.
This was very enjoyable, and hard to put down. Everyone should read this (after reading To All The Boys I've Loved Before of course) I gave it 4 Stars.