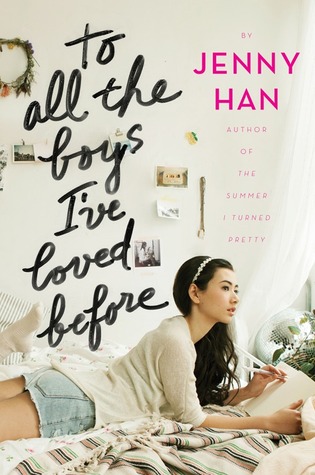 Book: To All the Boys I've Loved Before.

Written By: Jenny Han.
Pages: 288.
Synopsis: (From Book.) To All the Boys I've Loved Before is the story of Lara Jean, who has never openly admitted her crushes, but instead wrote each boy a letter about how she felt, sealed it, and hid it in a box under her bed. But one day Lara Jean discovers that somehow her secret box of letters has been mailed, causing all her crushes from her past to confront her about the letters: her first kiss, the boy from summer camp, even her sister's ex-boyfriend, Josh. As she learns to deal with her past loves face to face, Lara Jean discovers that something good may come out of these letters after all.
My Thoughts: I loved the family Dynamic.  The relationship with the Song sisters kind of reminds me of my sisters and I.  They love each other no matter what, and they are always there for each other.  Kitty is my favorite character.  She is just too much.  She like a grown up trapped in a child's body.  She is wise beyond her years.  On a side note, if I was Lara Jean, when I found out Kitty sent out my love letters, I would have strangled her. I would have probably gone crazy!  I also liked her friend Chris.  Even though at times she could be crude, I loved her.
Lara Jean's older sister Margot, goes off to college, all the way in SCOTLAND (!) and soon after, Lara Jean and Margot's newly ex-boyfriend Josh, get a little too close for comfort.  Josh receives one of LJ's love letters in the mail, he admits that he actually liked Lara Jean first but didn't think she liked him back…So I guess he went for the next best thing…HER SISTER!  I'm sorry but if I were Margot, I would have drop kicked my sister(eventually I would probably forgive her), and killed Josh. How dare they do that!?
In my opinion, Lara Jean, is too passionate.  It seems that she falls in love with every boy she lays her eyes on.  The letter business is a little over the top.  If I were her, I would have at least ripped them up when I was done.  Especially when you have a little sister like Kitty around.
I don't like Peter.  He wants to have his cake and eat it too.  No Sir.  You either want to be with Genevieve, or you don't.  CHOSE! I will admit that there are times in the story were I found myself rooting for Peter but I don't know, something is up with him.
Overall, this was an easy read, and I didn't want to put it down.  I gave it 4 Stars.