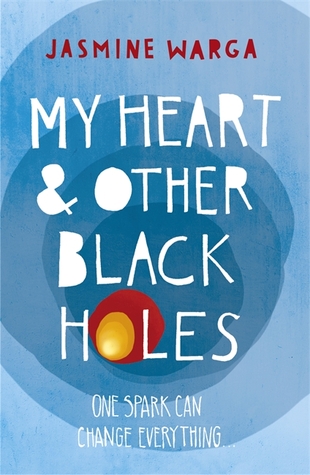 Book: My Heart & Other Black Holes.

Written By: Jasmine Warga.
Pages: 320.
Synopsis: (From Book.) Aysel and Roman are practically strangers, but they've been drawn into an unthinkable partnership. In a month's time, they plan to commit suicide – together.
Aysel knows why she wants to die: being the daughter of a murderer doesn't equal normal, well-adjusted teenager. But she can't figure out why handsome, popular Roman wants to end it all….and why he's even more determined than she is.
With the deadline getting closer, something starts to grow between Aysel and Roman – a feeling she never thought she would experience. It seems there might be something to live for, after all – but is Aysel in so deep she can't turn back?
My Thoughts: This book was very heartbreaking.  Usually, YA book can be very cliche and predictable, but I can honestly say that parts of this book truly shocked me. I am happy that Aysel and Roman found each other, and were able to make each other see the light at the end of the tunnel.
Although it was very sad, I liked this book a lot.  I don't think I've read anything like it.  Yeah, I know I read a lot of books dealing with depression or something very tragic, but I don't think I've read anything as dark as My Heart & Other Black Holes.  It's been about a week since I finished this book, I'm still kind of speechless.  I can't seem to  find the right  words to describe how this book made me feel. They only two boring  things I can think of are Happy and Sad.  I guess I can also add heartbroken.  Roman shattered my heart into a billion tiny pieces.  I just wanted to pull him out of the book and give him a big hug.
I know that these days you can find a website dedicated to just about anything you can imagine, but I never thought that there are actual websites for people to go and talk about/plan their suicides.  It's sad to think that there are so many people in this world who are stuck in this black place, who feel like the only way out is to take their own lives.
This book was great. It sucked me in and I didn't want to put it down.  I gave it 5 Stars.