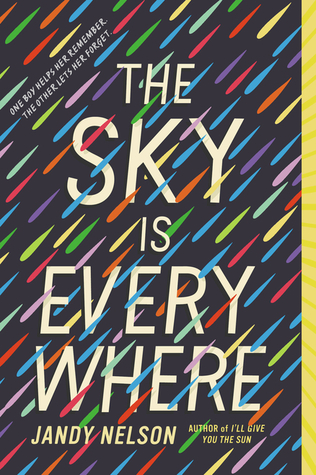 Book:  The Sky is Everywhere.

Written By:  Jandy Nelson.
Pages:  304.
Synopsis:  (From Book.) Seventeen-year-old Lennie Walker, bookworm and band geek, plays second clarinet and spends her time tucked safely and happily in the shadow of her fiery older sister, Bailey.  But when Bailey dies abruptly, Lennie is catapulted to center stage of her own life – and, despite her nonexistent history with boys, suddenly finds herself struggling to balance two. Toby was Bailey's boyfriend; his grief mirrors Lennie's own. Joe is the new boy in town, a transplant from Paris whose nearly magical grin is matched only by his musical talent. For Lennie, they're the sun and the moon; one boy takes her out of her sorrow, the other comforts her in it. But just like their celestial counterparts, they can't collide without the whole wide world exploding.
My Thoughts:  This book was AMAZING!  I found it really hard to put down.  The story was beautiful and the writing, very honest.  Most books dealing with grief are over the top, not this book.  I really LOVED it!  I've finally found a book where a character didn't ruin it for me.  Yes, Bailey's Fiance Toby crossed the line, but he didn't make me want to stop reading.  I know some of the characters seemed too good to be true *Cough* Joe *Cough* but, we have to remember that we are "seeing" him as Lennie sees him, and she finds him to be perfect.
At first look, it may seem like this is just your normal girl is sad/girl finds love contemporaries, but its not.  The Sky is Everywhere is much more than that.  It's a story about a girl stepping out from the shadow of her sister and coming into her own.  Learning that she is worthy of love, and she shouldn't feel bad for being happy in her life.
After Lennie's sister Bailey dies, she starts a "relationship" with her sisters fiance Toby.  Lennie feels like Toby is the only one who gets her.  She feels horrible about the whole thing but, they believe that by being together, they can somehow bring a part of Bailey back.  Lennie also feels like she is obligated to be with Toby so he is happy.  It must be hard losing the love of your life, but this isn't the right thing to do, and deep down they both know it.
The only thing this does is cause more chaos in Lennie's life.  She then meets a boy named Joe, who she falls hard for.  Joe helps her see something in herself that she never saw before.  Lennie now sees herself as more than second best. She's not just "Bailey's sister", She's her own person.  I'm glad Joe came when he did.  If it wasn't for him I don't think she would have ever been able to kick Toby to the curb.  I think that Joe is better for Lennie in the long run because he was more about making her feel better, whereas Toby was using her to make himself feel better.
So far, I would have to say that this is the best book I've read this year.  I gave it 5 Stars.