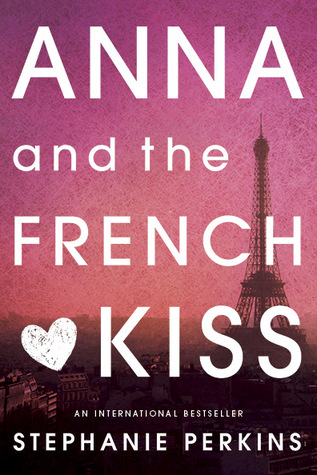 Title: Anna and The French Kiss.

Written By: Stephanie Perkins.
Pages: 372.
Synopsis:(From Book.) Anna is happy in Atlanta. She has a loyal best friend and a crush on her coworker at the movie theater, who is just starting to return her affection. So she's less than thrilled when her father decides to send her to a boarding school in Paris for her senior year. But despite not speaking a word of French, Anna meets some cool new people, Including the handsome Etienne St. Clair, who quickly becomes her best friend. Unfortunately, he's taken. and Anna might be, too. Will a year of romantic near misses end with the French kiss she's been waiting for?
My Thoughts: I think this is such a cute book. I usually don't go for books like this, but I heard a lot of good things about it so I had to read it. The book was very easy to read. There was no confusion at all.  It was a very quick read. Once I started I couldn't put it down. This is the first time in a long time that I have been so wrapped in a book, that I finished it in one day. When I had free time I was reading it.
It was a great book the only complaints I have are about the some of the characters. My main problem was with St. Clair. A lot of people probably won't agree with me but, I really dislike him. In my opinion he was very selfish and greedy. I found myself constantly screaming in my head, "make up your mind already!!" I know it was had for him to break up with Ellie but come on you are hurting Anna in the process. He was being too close to be "just friends" with her but then all of the sudden he was like "I have a girlfriend." I also started to get mad at Anna because I felt like she was letting him be that way. He would do it time after time and she would get mad at him but when he came calling she would run back to him. I'm sorry but when you both have the same feeling for each other and you both know about it, you can not just be friends.
I give this book 4 Stars!
I'm jumping right into Lola and The Boy Next Door.